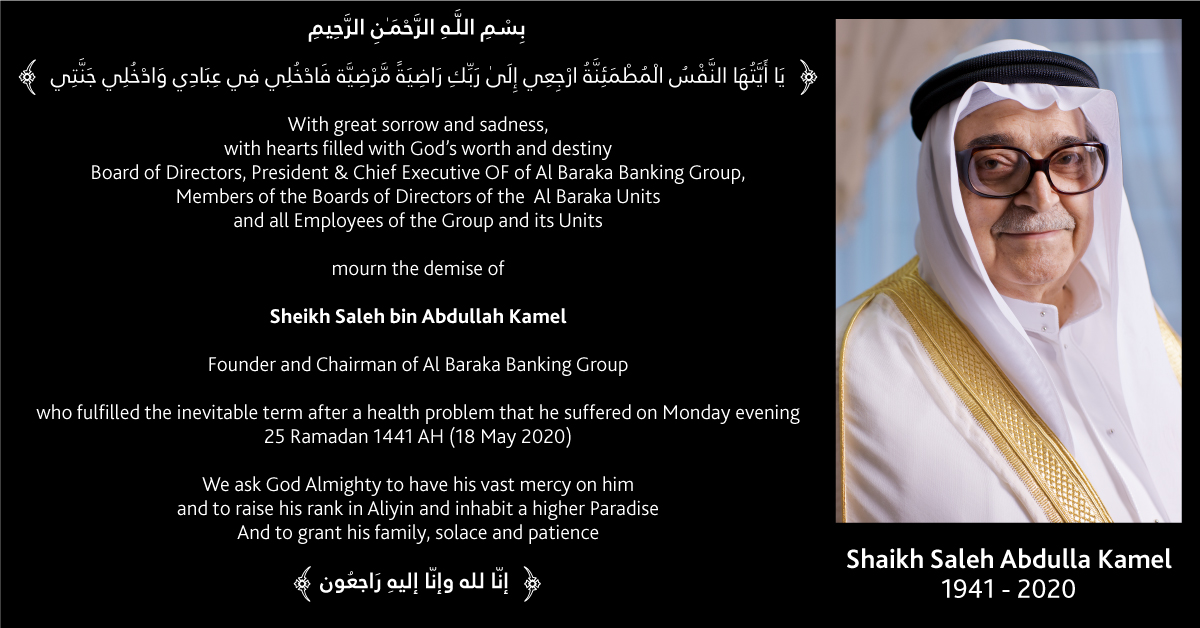 Shaikh Saleh Abdullah Kamel, Chairman and Founder of Al Baraka Banking Group ("ABG"), passed away on May 18, 2020.
Shaikh Saleh is widely acknowledged and revered internationally as a pioneer of Islamic banking & finance and Participation banking. He was the highest authority in the field of Islamic economics. As a philanthropist, Shaikh Saleh's commitment and contribution to communities across the world is unparalleled.
Shaikh Saleh was the Chairman of the Dallah Al Baraka Group, one of the largest business groups in the Kingdom of Saudi Arabia. He founded the group over 50 years ago and created Al Baraka Investment and Development, a holding company for many Islamic Banks, Financial Institutions and companies in various diversified businesses around the world.
In addition to being Chairman and Board Member of many companies within the Dallah Al Baraka Group, Shaikh Saleh was on the Boards of many social, charitable and cultural societies and foundations such as Arab Thought Foundations, King Abdulaziz and His Companions Foundation for the Gifted, Islamic Solidarity Fund, and Arab Academy for Finance and Banking.
Shaikh Saleh Abdullah Kamel was the President of The Islamic Chamber of Commerce, Industry and Agriculture, The Jeddah Chamber of Commerce & Industry, and the Chairman of the General Council for Islamic Banks and Financial Institutions. He is a Member of President's Advisory Panel at Islamic Development Bank.
The President & Chief Executive of Al Baraka Banking Group, Mr. Adnan Ahmed Yousif stated, "a guiding light has gone from my life today and as the whole organization mourns the great leader's passing we shall strive to hold the torch for the ideals of Shaikh Saleh – to serve the society and communities and help them prosper and apply Shari'a rules related to the ownership of wealth in creating the wealth and in investing, exchanging, growing and spending the wealth."
In recognition of his personal endeavors and the remarkable contribution of the Group, towards enhancing economic development and creating jobs and well-being, Shaikh Saleh Abdullah Kamel has been awarded many medals, titles and prizes including the Jordanian Independence Decoration, the King Abdulaziz Decoration – Kingdom of Saudi Arabia, the Al Alawi Decoration – Morocco, the Royal Award for Islamic Finance – Malaysia and the Islamic Banker Award by the Islamic Development Bank.
The Board of Directors, the President & Chief Executive, The Executive Management and Staff of Al Baraka Banking Group and all ABG Units deeply mourn the loss of their beloved Chairman and convey their deepest condolences to the family members.
"The purpose of Man, by the commandment of Allah, The Almighty, is to construct, embellish, create and build on this earth. Man is therefore also ordained to create jobs for others. Thus, the wealth bestowed upon us belongs to Allah, The Almighty". – Shaikh Saleh Abdulla Kamel (1941-2020)